Welcome to the world of oyster sauce! This umami-rich sauce is made from fresh oysters, salt, and soy sauce, and adds a unique flavor to any dish.
Usage: Oyster sauce is a versatile sauce used in many Asian dishes. It adds delicious flavor to meat, fish, vegetables, and rice noodles, and can be used as a marinade, dip, or seasoning during cooking.
What's in oyster sauce? The main ingredients are fresh oysters, salt, and soy sauce. Additionally, various spices such as sugar, garlic, and ginger can be added to vary the flavor. Most oyster sauces available in the market are gluten-free, but it's worth checking the ingredient list to ensure that no allergenic ingredients are included.
Our Panda Brand Oyster Sauce has all the same qualities as our Premium Oyster Sauce, but with just a milder flavour. The Panda Brand Oyster Sauce will still bring out the "xian wei" (umami in Chinese) and uplift the taste of all the ingredients. It's milder flavour means you can use this sauce a little more freely than the Premium version, which is more concentrated to deliver a stronger flavour.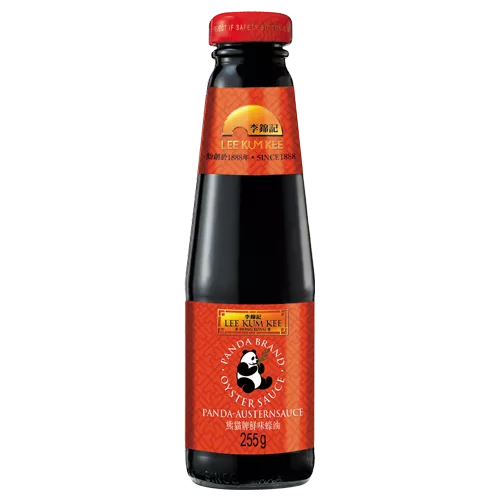 Oyster Sauce
Ingredients of LKK Oyster Sauce
Water, sugar, salt, modified corn starch, flavor enhancer:E621, oyster extract (3%), wheat flour, colorant:E150c.
Oyster Sauce
Oyster Sauce ist eine dunkelbraune, dickflüssige Würzsauce der asiatischen Küche. Ursprünglich aus in Salzwasser fermentierten Austern hergestellt, besteht sie heute meist aus einer Mischung von Austernextrakt und Sojasauce, die vorher mit Salz, Knoblauch und Zwiebeln eingekocht wurde. Sie wird mit Maismehl angedickt und mit dem Farbstoff E 150 a (Zuckercouleur) gefärbt, als Geschmacksverstärker wird E 621 (Glutamat) zugesetzt.

Source Wikipedia
What is oyster sauce?
Oyster sauce is a dark, thick sauce widely used in Chinese cuisine. It is made from oyster extract and various spices, giving dishes a rich umami flavor.
What is oyster sauce made of?
Oyster sauce is primarily made from oyster extract obtained by boiling oysters in water. It is typically flavored with sugar, salt, soy sauce, and spices such as garlic or onions.
What can you make with oyster sauce?
UK English: Oyster sauce is commonly used as a seasoning to give dishes an umami-rich flavor. It works well for seasoning meat, vegetables, noodles, rice, and soups. In Chinese cuisine, it is often used for stir-fried noodles and vegetable dishes.
Does oyster sauce contain glutamate?
Some brands of oyster sauce may contain monosodium glutamate (MSG) as an additive to enhance the flavor. However, it is also possible to find oyster sauce without MSG. Read the ingredient list on the packaging to ensure whether MSG is included or not.
Is oyster sauce gluten-free?
Austernsauce can be gluten-free if it is made without wheat or other gluten-containing ingredients. Read the ingredient list on the packaging to ensure that the product is gluten-free
Is oyster sauce vegan?
As oyster sauce is made from oyster extract, it is not vegan. Vegan alternatives include soy sauce and mushroom sauce, which can have similar flavors.